Split Core Current Transformer SCT 333mV Secondary Output
The JIANGYIN SPARK series of split core current transformer are designed for fast and easy installation.The split core design permits non-contact current measurements through magnetic field induction without requiring that the primary wire be taken offline and disconnected for CT installation.This method permits a safer,easy and portable current measurement. An internal precision burden resistor across the secondary winding of the CT provides a safe low voltage output and permits safe opening of the secondary.
Features
Low cost.
Split core design;safer,easier installation,portable.
Specifications
Rated Current 5A to 3000A loads.
Rated output: 0.333Vac
Accuracy:±1% from 5% to 120% of rated current
Phase Angle: less than 2 degrees at 50% of rated current
Insulation Voltage:600Vac
Maximum Primary Voltage:5000Vac(Insulated Conductor)
Operating Temperature:-35℃to 65℃.
Frequency Range:50-400Hz
Leads:4Foot(105cm),UL 1015,Twisted Pair,20AWG
UL&CE recognized. RoHS Compliant,UL file number:E341727
Output and leads can be customized
Application:
Measures AC current flow to electric motors, lighting, air conditioning equipment, etc.Compatible with HVAC temperature control, power management,building automation systems.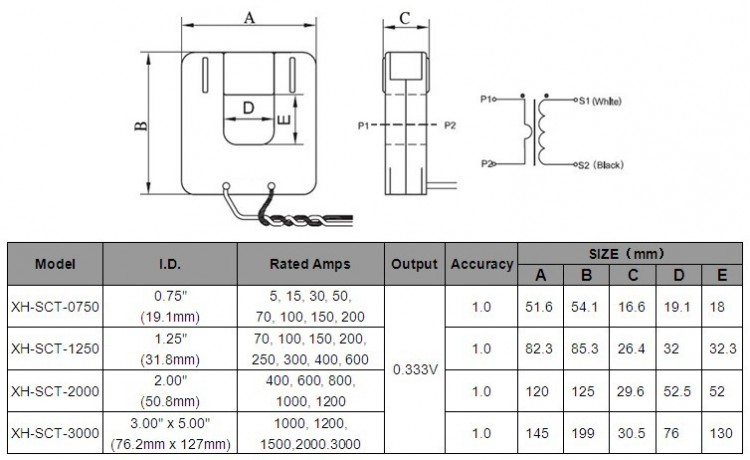 Performance Curve: